The
Restaurant
The lounge is minimal with a mild touch of classy aesthetics and modern décor…
located in the most urban corner of the city…
may be described as a play between marble and wood, surrounded by magnificent windows that allow all the light in.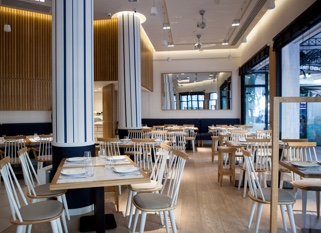 Meet the
Makers
Two brothers, Stavros and Christos Sotiroudis...
in collaboration with Theoktistos Sarasidis, propose a small menu, full of tasteful combinations that bring back old memories and may satisfy even the most demanding gourmets. Timeless, urban dishes, yet seen through a creative, fresh look which always relies on fresh raw materials and modern techniques, as well as an up-to-date wine list, combined with the highest quality and impeccable service.
Discover the menu
You may taste our delicious carpaccio and crayfish tartar with passion fruit, our orzo pasta with shrimps, our smoked eel with wasabi and our hake with leek and celery, all of which will definitely live up to your expectations. Of course, you should not miss out on the necessary appetizers for a good round of tsipouro. Save up your appetite for the chocolate soufflé that will delight you.
Marinated / Salty

Starters

Salads

Pasta / Risotto

Fresh Seafood of the day

With Pasta

Fresh Fish of the day

Desserts

Ouzo

Tsipouro

Distillates

Dessert Wines

Retsina

Red Wine

Rosé Wines

White Wine / International Vineyard

Big Bottles

Sparkling Wines / Champagne

White Wine
Sea bream ceviche

Smoked eel

Grilled octopus

with black eyed peas

Greek blue crab

Stripped red mullets carpaccio

with fried rosemary and cranberries

Crayfish tartar

with passion fruit

Sea bass carpaccio

with fresh truffle

Marinated anchovies

with potato salad

Grilled mackerel

Skipjack politiki

Anchovies from Spain

White taramas

Grilled talagani

with grapes and cherry tomatoes

Smoked feta

baked in a crust with tomato and chili pepper

Zucchini with tzatziki

Fresh french fries

Fried bream fillets

Fava from Santorini

Baked eggplant

with metsovone cheese

Fried baby squid

Mussels

fried or saganaki

Baked calamari

with zucchini and bottarga

Tabule

with fied crayfish tails

Fried shrimps

with "saganaki" sauce

Greek salad

Boiled seasonal vegetables

Green salad

with artichokes, orange and cherry tomatoes

Salad with crab and mango

Caesar's salad

with salmon and shrimpσ

Pilaf of mussels

Linguini with shrimps

and bottarga from Mesologi

Orzo pasta with shrimps

Handmade nioki with crayfish

shiitake mushrooms and truffle

Risotto with bream carpaccio

asparagus and lemon

Linguini with fresh shrimps

Risotto with sea urchin

Calamari

fried or grilled

Shrimps

grilled, saganaki or steamed

Crayfish

grilled or steamed

Lobster

grilled or boiled

Fresh shrimps

Fresh crayfish

Fresh lobster

Anchovies

fried or saganaki

Grilled sardines

Fried surmullets

Tope fish

fried, saganaki or grilled

Sea bass with greens

boullabaise and harissa

Stripped red mullets

fried or grilled

Soles

fried, grilled or meunière

Sea bass

grilled or in a salt crust

Dentex

Slice of dentex

with grilled vegetables and venere rice

Καραβίδες

Γαρίδες

Σχάρας, σαχανάκι, αχνιστές ή με ζυμαρικό

Καλαμάρι

Τηγανιτό ή σχάρας

Συναγρίδα

Λαβράκι

Σχάρας ή στο αλάτι

Γλώσσες

Τηγανιτές, σχάρας ή μενιέ

Lemon tart

with lemon sorbet and strawberries sauce

Chocolate soufflé

with caramel, biscuit and vanilla ice cream

Millefeuille

with white valrhona chocolate and blackberries

Seasonal fruits sorbet

Μpampatzim Classic

Μatareli

Stoupaki

Varvagianni Green

Pitsiladi

Adolo

Mpampatzim

Idoniko

Τsilili

Μeteoro

Gatsios

Μοscato of Hamburg Τsilili

Dark Cave Τsilili

Scinos Chios Mastic

Limoncello di Sorrento, Piemme

Amaro Averna

Amaro Averna

Fernet Branca Mint

Grappa Berta Valdani (Moscato)

Grappa Berta Giulia (Chardonnay Barrique)

Grappa Berta Elisi (Barberra, Nebbiolo, Cab. Sauvignon Barrique)

Grappa Berta Roccanivo (Barbera d'Asti)

Grappa Berta Bric De Caian (Moscato)

Gewurztraminer Vivlia Chora

Μelitis Avantis Muscat

Glykies Efhes Εratines Μalagousia

Vinsanto Santo-Wines

Moscato D'asti Ceretto

Μοscato of Samos Vin-Doux

Chrysogerakas Κyr-Yianni

Μalagousia-Gewurztraminer

Κechribari

Tetramythos 750ml

Gi kai Ouranos Thymiopoulou

Naoussa, Xinomavro

Nemea Skoura

Νemea Αgiorgitico

Pinot Noir SOLE Vivlia Chora

Varietal Wine

Joseph Drouhin, Rully

Rully AC, France

Dona Silvina Malbec Fresh De Verano

Mendoza, Argentina

Apla Oenops Wine

Cabernet Sauvignon-Xinomavro

Idylle La Tour Melas

Central Greece, Grenache-Syrah-Αgiorgitico

Vivlia Chora Estate

Paggaio, Syrah

ΤΗΕΜΑ Pavlidi

Drama, Τebranillo

Αpla Oenops Wine 1,5lt

Cabernet Sauvignon-Xinomavro

Vivlinos Wine, Vivlia Chora Estate

Local Ancient Kavala Variety

Petale de Rose, Regine Sumiere

Cote de Provence AOC, Cinsault, Grenache,
Syrah, Mourvedre, France

Domaine OTT, Chateau Romassan

Cote de Provence AC, Grenache, Cinsault,
Syrah Bandol France

Rock Angel Chateau D' Esclans

Cote d' Provence AOC

Chateau de Pampellone

Cote de Provence France

Chablis Champs-Royaux W. Fevre

AOC Chablis, Chardonnay France

Bourgogne Clos de la Combe Jean Charton

AOC Bourgogne, Chardonnay France

Joseph Drouhin, Puligny Montrachet

Montrachet AC, Chardonnay France

Comte Laford Sancerre

AOC Sauvignon Blanc France

Pouilly Fuisse Tete de Cru Chateau Fuisse

AOC Pouilly Fuisse Chardonnay France

Delas Viognier

Vin De Pays DOC France

Leon Beyer, Riesling

AOC Alsace AC France

Pinot Grigio, La Tunella

DOC Colli Orientali Del Friuli Italy

Weingut Nigl Gruner Veltliner Gartling

Kremstal Austria

Muga Rioja, Bodegas Muga

DOCa Rioja, Viura-Malvazia Spain

Principessa Gavia Castello Banfi

DOCG Cortese Italy

D Alamel by Lapostolle

Chardonnay, Chile

Wild Rock Craggy Range

Sauvignon Blanc, Marlborough New Zealand

Condrieu St. Cosme

AOC Condrieu France

Corton Charlemagne Grand Cru, Jean Chartron

AOC Corton Charlemagne Grand Cru, Chardonnay France

Vivlia Chora Estate Ovilos 1,5lt

Vivlia Chora Estate Ovilos 3lt

Viognier Eclectique Skoura 1,5lt

Μalagousia Gerovassiliou 1,5lt

Dom Perignon Vintage Brut

AOC Champagne

Louis Roederer, Brut Vintage Rose

AOC Champagne

Louis Roederer, Brut Premier

AOC Champagne

Deutz Brut Classic

France, Champagne

Ακακίες κυρ-Γιάννη

ΠΟΠ Αμυνταίου, Ξινόμαυρο, Sparkling ροζέ

Καρανίκας Βlanc de Νoir

ΠΟΠ Αμυνταίου, Ξινόμαυρο

Matiu brut, L'Antica Quercia

DOGC Prosecco di Conegliano, Clera

Κτήμα Βιβλία Xώρα

Π.Γ.Ε. Παγγαίου, Sauvignon Blanc-Ασύρτικο

Απλά Oenops Wines

Μαλαγουζιά

Σαμαρόπετρα, Κυρ-Γιάννη

Π.Γ.Ε. Φλώρινας, Sauvignon Blanc-Ροδίτης

Κανένας Τσάνταλη

Ποικιλιακός Οίνος, Μοσχάτο Αλεξ.-Chardonnay

ATMA Θυμιόπουλου

Π.Γ.Ε. Ημαθίας, Μαλαγουζιά-Ξινόμαυρο

Κτήμα Άλφα

Π.Γ.Ε. Φλώρινας, Sauvignon Blanc

Κτήμα Γεροβασιλείου

Π.Γ.Ε. Επανωμής, Μαλαγουζιά-Ασύρτικο

Thema, Κτήμα Παυλίδη

Π.Γ.Ε. Δράμα, Sauvignon Blanc-Ασύρτικο

Μανουσάκης Roussanne

Κρήτη, Roussanne

Κτήμα Τρουπή, Τομή

Π.Ο.Π. Μαντινείας, Μοσχοφίλερο βαρέλι

Μαγικό Βουνό, Νίκου Λαζαρίδη

Π.Γ.Ε. Δράμας, Sauvignon Blanc

Όβηλος Βιβλία Χώρα

Π.Γ.Ε. Παγγαίου, Semillon-Ασύρτικο

Κτήμα Αργυρού βαρέλι

Π.Ο.Π. Σαντορίνη, Ασύρτικο

Μαλαγουζιά Αρβανιτίδη

Π.Γ.Ε. Θεσσαλονίκης

Σαντορίνη Χατζηδάκη

Π.Ο.Π. Σαντορίνη, Ασύρτικο

Μαλαγουζιά Γεροβασιλείου

Π.Γ.Ε. Επανωμής

Κατσανό Γαβαλά

Π.Γ.Ε. Κυκλάδες, Κατσανό-Γαϊδουριά

Clos Stegasta

Π.Γ.Ε. Κυκλάδες-Τήνος, Ασύρτικο

Chardonnay Γεροβασιλείου

Π.Γ.Ε. Επανωμής

4 Λίμνες Κυρ-Γιάννη

Π.Γ.Ε. Φλώρινας, Chardonnay-Gewurztraminer

Αρμύρα Σκούρα

Π.Γ.Ε. Πελοπόννησος, Chardonnay-Μαλαγουζιά

Ευχές Ερατεινές

Π.Γ.Ε. Μακεδονίας, Ασύρτικο-Chardonnay-Μαλαγουζιά

Ντρούμο Κυρ-Γιάννη

Π.Γ.Ε. Φλώρινας, Sauvignon Blanc

Σαντορίνη Βασάλτης

Π.Ο.Π. Σαντορίνη, Ασύρτικο

Σαντορίνη Γαβαλά

Π.Ο.Π. Σαντορίνη, Ασύρτικο

De Milos Χατζηδάκη

Π.Ο.Π. Σαντορίνη, Ασύρτικο

Viognier Γεροβασιλείου

Π.Γ.Ε. Επανωμής

Σαντορίνη Σιγάλα βαρέλι

Π.Ο.Π. Σαντορίνη, Ασύρτικο

Τέχνη Αλυπίας

Π.Γ.Ε. Δράμα, Sauvignon Blanc-Ασύρτικο

Viognier Eclectique, Σκούρα

Π.Γ.Ε. Πελοποννήσου

Chateau Julia Chardonnay, Κώστα Λαζαρίδη

Π.Γ.Ε. Δράμα

Βιβλία Χώρα Βιδιανό SOLE

Ποικιλιακός Οίνος

Αηδάνι Βασάλτης

Π.Γ.Ε. Κυκλάδες

Ρομπόλα Getillini Wild Ferment

Π.Ο.Π. Κεφαλλονιάς, Ρόμπολα

Fine Ασύρτικο, Αnatolikos Vineyards

Ασύρτικο-Μαλαγουζιά

Emphasis Chardonnay Παυλίδη

Π.Γ.Ε. Δράμα

Άσπρος Λαγός Δουλουφάκη

Π.Γ.Ε. Κρήτης, Βιδιανό

Βηλάνα Λυραράκη

Π.Γ.Ε. Ηράκλειο

Μοσχοφίλερο Σκούρα

Π.Γ.Ε. Πελοποννήσου

Κτήμα Άλφα Chardonnay

Π.Γ.Ε. Φλώρινα

Πάλπο Κυρ-Γιάννη

Π.Γ.Ε. Φλώρινα, Chardonnay

Gewurztraminer, Αμπελώνας Λαλίκου

Π.Γ.Ε. Καβάλας

Μανουσάκης Βιδιανό

Κρήτη, Hράκλειο Κρήτης

Νυχτέρι Χατζηδάκη

Π.Ο.Π. Σαντορίνη, Ασύρτικο

Γαία Οινοποιητική, Wild Ferment

Π.Ο.Π. Σαντορίνη, Ασύρτικο

Μαλαγουζιά Μπαμπατζίμ

Π.Γ.Ε. Θεσσαλονίκη

Chardonnay Κατσαρού

Π.Γ.Ε. Κρανιάς

Alexandra Claudia Papayianni

Π.Γ.Ε. Χαλκιδικής, Μαλαγουζιά

ΤΗΥRSUS Οινογένεσις

Π.Γ.Ε. Μακεδονία, Μαλαγουζιά-Viognier

ΙΝΙΜΑ, Kατώγι Αβέρωφ

Ασύρτικο-Αθήρι

Σαν τα Μάραθα

Οινοποιείο ΣΥΡΟΥ, Ασύρτικο

Σαντορίνη Δασκάλη

Π.Ο.Π. Σαντορίνη, Ασύρτικο

Γυμνή Βασίλισσα, Κτήμα Πιερία Ερατεινή

Π.Γ.Ε. Μακεδονία, Ασύρτικο-Chardonnay

Μεθ' Υμών Acacia, Ντούγκος

Π.Γ.Ε. Θεσσαλία, Ασύρτικο-Sauvignon Blanc
Latest News
3 May '17

An evening dedicated to Deutz Champagne…
Get in
Contact
Resevations Number
E-mail
Opening Hours
Open Daily:
12:00 – 00:00